We Are Recruiting For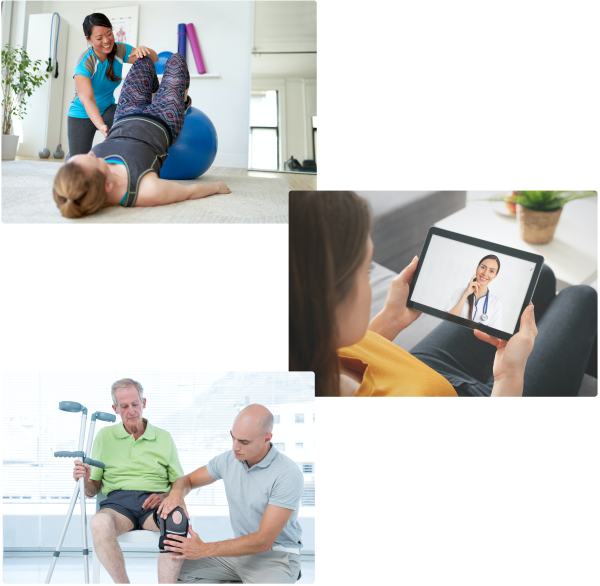 Physiotherapists

Chiropractors

Massage Therapists

Acupuncturists

Speech Language Pathologists

Nutritionists

Osteopaths

Occupational Therapists

And more…
How It Works
Apply

Sign up on our online platform as a healthcare provider. After applying, you will go through a short interview process to make sure that you are a good fit.

Get Approved

If we feel that you are a good fit for the clients who use our site, your application will be approved!

Start Seeing Patients

As soon as you are approved, you will begin to be matched with patients in your area.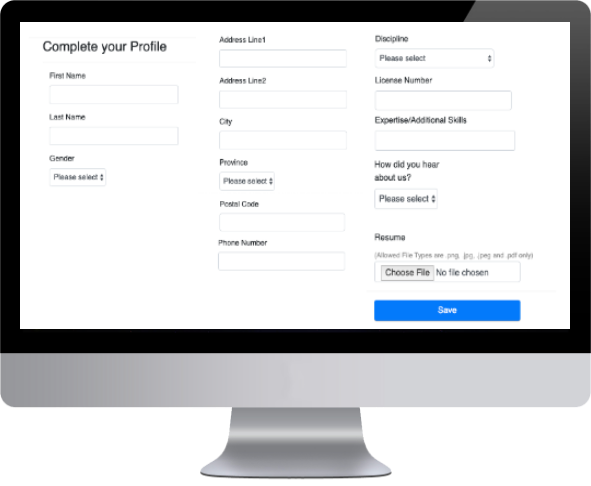 Why Work With Rehab2Go

We offer our clinicians a highly secure and confidential program for taking online clinical records and notes. Our program meets all regulatory requirements.

All clinicians have the ability to customize their schedule to have flexible work hours and areas in which they work.

Rehab2Go uses safety protocols and procedures for all new patients to ensure that clinicians feel safe.

Working with Rehab2Go provides clinicians with additional income to supplement their present clinical salaries.

Being a member of the Rehab2Go team means access to ongoing clinical education and mentorship opportunities.
FAQ's
How does Rehab2Go ensure my safety when I am booked for an in-home appointment?
All new patients are required to create a Patient account on our website. The sign up process includes providing picture ID and demographic information. All patients are reviewed by the administrator and are reviewed prior to being approved by the patient.
Is there a way to see billings under my registration number?
Billing is done through our practice management software and is available for your review.
How do I invoice Rehab2Go for providing my healthcare services?
All our consultants are required to send their invoices to Rehab2Go at the end of every month. Details on how to ensure we receive your invoices are outlined in your Rehab2Go Welcome Package.
What do I do if I need to reschedule or cancel an in-home appointment with a patient?
To reschedule appointments, please call 647-407-3422 immediately to ensure timely booking. To cancel appointments, please log into your Rehab2Go Treatment Provider account and cancel your upcoming booking. Please be advised that patients are subjected to the following cancellation policy.
Notice period
Refund Amount
24 hours or more
100%
2 hours before treatment
70%
Within 2 hours of the treatment
0%
What do I do if an incident occurs in a patients' home?
Please call 647-407-3422 immediately to notify us that an incident has occurred. An incident report will be completed and a review of the issue will be completed by management.
Why do I need to create an account on Jane if I have created an account on the Rehab2Go website?
Jane is our practice management software, it will allow you to see your daily and weekly schedule of appointments, confirm visits have been completed and create notes on your patients' personal chart.
How do you select a treatment provider?
Treatment providers are selected based on the location and time of the appointment. If a patient has a preference for the treatment provider's gender then this is taken into consideration as well.
What type of training do you provide?
We ensure our consultants are well-versed in navigating their Rehab2Go Treatment Provider account by providing a training manual in their Rehab2Go Welcome Package. Our consultants will have access to training and tutorial videos on how to use our practice management software once an account is created.
What does it mean to be part of the Rehab2Go community?
Our mission is to provide quality rehabilitation services at the time and location that meets the needs of our patients. Our consultants are the backbones in achieving our mission and so we aspire to be honest and trusted by all our consultants. We foster a safe and secure environment for them to work as well as provide opportunities for collaboration and professional development. We place a strong value on excellence, striving to pursue best practice in everything we do and seek to deliver the highest standards of care for our patients.
---
" It's my first time reviewing the organization I work with, and this one deserves the praises for its good services, popular booking platform – Jane (which also has an app for booking patients online on the go), quick turnaround if contacted for any queries or concerns. The team provides quick replies for any questions asked and provides reminders if anything is missed in the process. In a nutshell, Rehab2Go is a hassle-free package not only for the patients, but also its health care providers. "
- Rehab2Go Clinician
---
Join Our Team of Experienced
Healthcare Providers
We are recruiting qualified regulated health professionals in rehabilitation that share our vision
Join Now