Nutritional Counseling
What is nutritional counseling?
Dietitians empower their clients, to embrace food, to understand it, and to enjoy it. They translate the science of nutrition into terms everyone can understand to support healthy living.
What are the benefits of nutritional counselling?
Our Nutritional Counselling Programs provide advice and information that is tailored to their clients personal needs and challenges, including allergies, taste and accessibility. We offer clients customized nutrition packages such as Meal Planning for Special Diets and Allergies, Weight Loss Programs and Chronic Pain and Anti-inflammatory Diet Protocols. Clients are provided personal and on-going support as they navigate through the changes and challenges.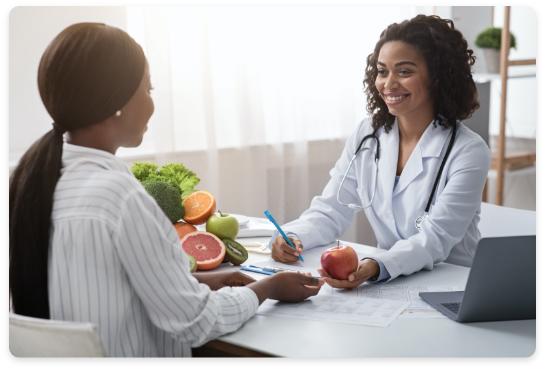 Our Specialties
Our nutritionists specialize in the following areas:
Weight Management for Adults and Pediatrics
Heart Health (hypertension, dyslipidemia)
Pre-diabetes, Type 2 Diabetes, and Gestational Diabetes
Pregnancy and Postnatal Nutrition
Digestive Health (IBS)
Inflammatory conditions like Rheumatoid Arthritis
Health and wellness for post-menopausal women (weight loss, thyroid conditions)
Chronic Pain and Anti-inflammatory Diet
Vegetarian Diet Know How
Pricing
$ 150.00
60-minute Consultation
This is a one-on-one assessment with a registered dietitian. Appointments include a review of the patient's health and weight history, goals, food preferences, and dietary intake.
Free!
30-minute Get to Know You Call
Our dietitian will discuss your struggles and your goals to help you sustain eating habits that are supportive of long-term health and well-being.
Book Now
Quality Healthcare At
Your Doorstep
We provide quality rehabilitation services at the time and
location that meets the needs of our patients.
Book Now